A Summer Revival Series
Date & Title Speaker
July 7, Friday 7PM
"Conformed to the Counterfeit Reality" Scott Ritsema
July 8, Saturday, 10:45 AM
"Transformed by the Renewing of our Minds" Scott Ritsema
July 8, Saturday, 7 PM
"How to Escape the Pleasure Trap" Scott Ritsema
July 9, Sunday, 7 PM
"It's Time to Let Your Light Shine" Alvin Maraugh
July 10, Monday, 7 PM
"Divided We Fall" Justin Mello
July 11, Tuesday, 7 PM
"The Center of Attention" Joseph Figures
July 12, Wednesday, 7 PM
"It's Time to Know the Enemy" Gerzon Gomez
July 13, Thursday, 7 PM
"The Mystery" Justin Mello
July 14, Friday, 7 PM
"It's Time to Get Ready, Be Ready, and Stay Ready" Gerzon Gomez
July 15, Saturday, 10:45 AM
"Flame On!" Joseph Figures
July 15, Saturday, 7 PM
"Sound the Alarm" Justin Mello
July 16, Sunday, 7 PM
"Incognito" Joseph Figures
July 17, Monday, 7 PM
"The World View of the Sanctuary" Stephen Bohr
July 18, Tuesday, 7 PM
"Thoughts on the Divine Calendar" Stephen Bohr
July 19, Wednesday, 7 PM
"The Hour of God's Judgement" Stephen Bohr
July 20, Thursday, 7 PM
"Surviving Persecution" Dr Eric Walsh
July 21, Friday, 7 PM
"When God Spared NOT" Dr Eric Walsh
July 22, Saturday, 10:45 AM
"It's Time to Carry the Light" Gerzon Gomez
July 22, Saturday, 7 PM
"The Global Pew Warning Message" Gerzon Gomez


This weekend is convocation. With guest speaker Ingo Sorke, Ph.D.
Friday Jan 9 at 7pm "Why I am no longer 1.0"
Sabbath, Jan 10 at 10:30 a.m. "What really Matters"- Getting the Man to Jesus!
3:30pm Concert with John Owens Jr.
Message -- "Tabitha, Arise!" - When God Subtracts, He Multiplies!
at Hillcrest Sevebth-Day Adventist Church 2600 Kenwood Road, Bakersfield, CA 93306 Phone: (661) 871-5000
Please lick on the link to view the flyer.
The Convocation Flyer.

Pathfinders & Adventurers
Club Night!
Registration: September 2 @ 6:30 p.m.
Schedule: Every Tuesday 6:30-8:00 p.m.
Location: Hillcrest SDA Church
2600 Kenwood Rd., 661-871-5000
Extra: Refreshments will be provided for
club members
Pathfinder Info
Ages 10-15
Annual Fee $100
Leaders: Melanie Duffield, Steve Dulcich
and Sylvia Elias
Adventurer Info.
Ages 5-9
Annual Fee $50
Leaders: Jillynn Dulcich, Brian Polm
and Michael Stephan
Payment arrangements can be made.
Convocation weekend is January 17-18, 2014. The theme, "In the Potter's Hands" reminds us of our dependence upon God, our faith in Him, and the work He will do in our lives not only in 2014 but also for as long as we live and until Jesus comes. Guest peaker Taj Pacleb wil be sharing the message with us Convocation weekend. The meetings are as follows:
Friday - 7pm Southside Church, 1330 3rd St. "The Potter's Work"
Sabbath - 10am (No Sabbath school) St. John Baptist Church, 1401 East Brundage Lane- "The Solemnity of Decisions"
Sabbath - 4pm St. Johns Baptist Church- "Did Not our Hearts Burn?" 1401 E. Brundage Ln.
Convocation movie night- 7pm BAA School Gym-- Movies "Creaton: The Earth as a Witness." & "The Blueprint: The Story of Adventist Education."
Music Ministry provided by: The Cartagena Family and Except4Grace
Don't miss it, only One night!!
Saturday, January 19, 2013 at the FOX theater 7 .m.
Tickets are $5 and available at:Hillcrest SDA Church, Central SDA Church, www.foxtheateronline.com, Russo's Books, emporium Western Store, or At the door while supplies last.
About the FILM: Based on a true story, Edward Fudge, young Biblebelt preacher gets surprise visit from an eccentric stranger who has a bizarre request. He wants Fudge to investigate hell. What follows is something no one---especially Mr. Fudge---expected.
Watch the trailer! www.hellandmrfudge.org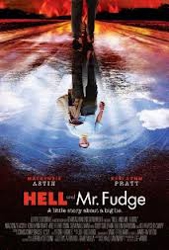 CONVOCATION 2013—Our Convocation will be January 18-19, 2013. This an experience of great spiritual blessings for all the Seventh-day Adventist churches in Bakersfield and Kern County as we come together to worship God and fellowship with one another. Our speaker this year is Pastor Jonathan Henderson, Senior Pastor of Grand Avenue Seventh-day Adventist Church in Oakland, CA. God has anointed this young pastor to preach the word with the power of the Holy Spirit. We encourage everyone to come and be a blessing and you will receive a bigger blessing from God!
BIO on our Guest Speaker:
Pastor Jonathan Henderson has been preaching since the age of 15. After graduating from Loma Linda Academy in 1994, he went on to Pacific Union College, graduating with a degree in Theology in 1998. After serving as the colleges Outreach Minister for two years, Pastor Henderson accepted to serve as the Campus Ministries Pastor at the Campus Hill Church in Loma Linda, California. In 2003, Pastor Henderson was led to serve as the Senior Pastor of the Grand Advent Church (formerly Grand Avenue Church), where he has remained for the past 10 years. Over the past 20 years in ministry, Pastor Henderson has enjoyed traveling throughout the world sharing the Gospel.
In 2008, Pastor Henderson published his first book, Worth Every Drop—A Journey into the Heart of God. The second edition of Worth Every Drop will be published by the Review and Herald in the first quarter of 2013.
Pastor Henderson is married to the love of his life, Iris, a nurse in the Bay Area. This past summer they welcomed their first child, Nathan Allan.
NO SABBATH SCHOOL or services at Hillcrest January 19 due to Convocation
SCHEDULE:
FRIDAY, JANUARY 18, 2013 7pm "With Jesus in the House" at Central SDA Church 4201 Wilson Rd.
SATURDAY, JANUARY 19, 2013 10:30 a.m." With jesus in the Heart" and 3:00 p.m "with Jesus in Heaven" at Saint John Missionary Baptist Church 1401 E. Brundage Lane.
Saturday Night 7:00 pm "Hell and Mr. Fudge" A little story about a big lie. Fox Theater 2001 H St. Tickets are $5 and available at Hillcrest Church, Central Church, and www.foxtheateronline.com
Revelation Seminar Volunteer Signup Sheet / Feb.8-March 2
Name:________________________________________________
Email:________________________________________________
Note: The following are the volunteer positions that need to be filled. Place a check mark in the box by ANY positions you might be interested in. Placing a check mark does not indicate you have committed, only that you are potentially willing to do so, you will be contacted by a team leader for questions and final commitment. Additionally, if you are willing to function as a team leader in one of the following areas below indicate so by place an "L" next to your check mark. Leaders will not be expected to recruit their teams. Pastors will be instructing and working with all team lead-ers. The team leader will contact their committed volunteers by e-mail to inform them of their one meeting date prior to the seminar which will cover job duties and the setting up of their master sched-ule with the dates each volunteer can work.
- Child Care: Arrive no later than 6:45 and finished by 8:30 or 9:00. Will help to sign children in and out to parents and mainly be involved in telling stories, crafts, and songs.
- Registration Team: Arrive no later than 5:15 and will be fin-ished by 7:30.
- Parking Attendants: Three volunteers on duty per night. Ar-rive no later than 5:30. At 7:00 these three volunteers will be-come the fellowship hall clean-up crew for the evening.
- Security: Two volunteers on duty per night from 7:00 to 9:00. May have a vehicle of some kind to help keep an eye on the parking lot and facility. Each night this team will be responsi-ble for locking up the facility after the meeting is over.
- Ushers: Arrive no later than 6:45. Will be passing out and picking up things during the announcement time and the end of some meetings. Will not be seating people.
- Telephone People: Quick and easy phone calls to attendees who have missed a meeting. There will be an easy to follow script provided on what to say and not to say.
- Piano Players: Piano players are needed who can provide ac-companiment to the speaker as he concludes his sermons. The latest a piano player could arrive would be 8:00.
- Foyer Greeters: Greet the attendees each night from 5:30 to 7:00 in the foyer.
- Dinner Table Attendants: Teams of two should arrive at approximately 5:30 and need to attend almost all, if not all, of the meetings in the series. Main job is to make friends with guests and to give instructions for where to go after dinner.
- Student Servers for Dinner: Arrive at 5:15 and should be finished around 7:00. Do not have to attend every meeting and will be asked to wear all black and tie their hair back. Will serve in the serving line and attend to tables. Can eat af-ter 7:00 and will not be required to clean up the fellowship hall.
- Bathroom Clean-up: Four people total, two people on a team. Teams alternate each week. Asked to clean the men's and women's restrooms each morning there will be a meet-ing.
- Sanctuary Clean-up Crews: Need four volunteers total. Two will clean the sanctuary each night after meetings (pick up trash and vacuum foyer and sanctuary). The teams alternate each week.
- Decorators: Four people are needed to help decorate the sanctuary, foyer, and tables in the fellowship hall with items the church already has. The decorations need to be changed four times throughout the seminar. Sally Kubo will guide you through this process.
- Sound Booth Operator: Arrive by 5:30 for Pre-program that starts at 6:00.
- Music Coordinator: Extensive responsibilities in coordinat-ing the music for the Pre-program to ensure proper schedul-ing. Will need to be at most, if not all of the meetings from 5:15 to 7:00 each night. Valerie Anglen will provide assis-tance with recruiting, etc.
- Musicians: Will be involved in sharing their talents between the PHEC presentations during the Pre-program between 6:00 and 7:00, and may be asked to be prepared to do a special music at the start of the main meeting. Musicians are asked to help with one meeting only.
- Prayer Team: Will be involved in various prayer related ministries before, during, and after the meetings.